Food safety tips - interactive guide
Safe Food Handling in the
Fridge
Practicing safe food handling in the fridge can help prevent foodborne illness.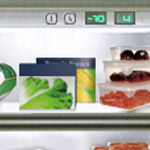 Temperature dials
Make sure your refrigerator is set to 4°C (40°F) or lower and your freezer at -18°C (0°F) or lower. This will keep your food out of the temperature danger zone, (between to 4°C (40°F) to 60°C (140°F)), where bacteria can grow quickly.
Eggs
Always store eggs in their original carton.
Fridge door shelf
Don't pack your refrigerator with food -- cold air must circulate to keep food safe. Check the temperature in your refrigerator using a thermometer.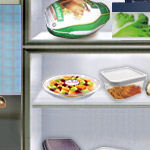 Fruit platter
Store cut fruits and vegetables in the refrigerator.
Hot dogs
Never eat hot dogs straight from the package. Hot dogs must be thoroughly cooked to a safe internal temperature. The middle of the hot dog should be steaming hot or 74°C (165°F).
Ice
Use ice packs or frozen drinking boxes to keep lunches cool.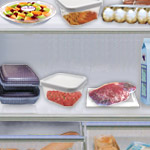 Marinating meat
Marinate meat in the refrigerator, not on the counter. Do not use leftover marinade from the raw food on the cooked food.
Leftovers
You can cool leftovers quickly by placing them in shallow containers. Refrigerate as soon as possible or within two hours.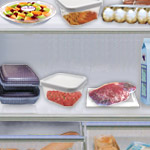 Raw meat
Place raw meat, poultry, fish and seafood on the bottom shelf of your refrigerator so raw juices won't drip onto other food.
Frozen raw meat
Defrost your raw meat, poultry, fish or seafood in the refrigerator, in a microwave or immersed in cold water. Don't refreeze thawed food!
Report a problem on this page
Date modified: