Food safety tips - interactive guide
Safe Food Handling in the
Kitchen
Practicing safe food handling in the kitchen can help prevent foodborne illness.
Scrubbing brush
Use a vegetable scrub brush on produce that have firm skin, such as carrots, potatoes, melons and squash.
Countertop
Wash countertops with warm soapy water after preparing each food item.
Cutting board
Cut and prepare raw meat, fish and poultry on a separate cutting board from that used to cut ready to eat vegetables, fruit or other foods.
Food guide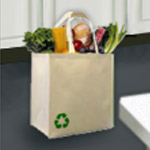 Reusable grocery bag
Wash your reusable grocery bags frequently, especially if you are carrying raw meat, poultry, fish or seafood.
Raw meat
Never leave raw meat, poultry, fish, seafood or leftovers out on the counter for longer than two hours.
Meat Thermometer
Remove the food from the heat and insert the digital food thermometer through the thickest part of the meat, all the way to the middle. Thermometer must not be touching any bones.
Microwave
Food that has been defrosted in the microwave should be cooked immediately after thawing.
Mixer
Avoid consuming any raw or lightly cooked eggs or egg products such as cookie dough or cake batter.
Plates
Always place cooked food on a clean plate. Do not use the same plates for raw and cooked meat, poultry, fish or seafood because cross-contamination can occur and this can cause foodborne illness.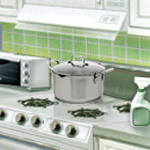 Pots
Bring gravies, soups and sauces to a full, rolling boil and stir during the process.
Sink
Wash your hands with warm soapy water for at least 20 seconds before and after handling food, using the washroom and changing diapers.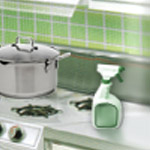 Cleaning spray
Properly cleaning kitchen surfaces will help eliminate bacteria and reduce your risk of foodborne illness. For added protection, use a bleach solution to sanitize. Mix 5 ml (1 tsp) of household bleach to 750 ml (3 cups) of water in a labelled spray bottle.
Stovetop
Always remember to cook raw meat, poultry and seafood to a safe internal temperature to avoid foodborne illness.
Paper towels
Consider using paper towels to clean up kitchen surfaces. If you use cloth towels, wash them often in the hot cycle of your washing machine.
Cooking utensils
If you've used utensils to handle raw food, don't use them again until you've cleaned them thoroughly in the dishwasher or in warm, soapy water.
Fresh vegetables
Wash fresh fruits and vegetables under cool, running drinkable water, before eating them or cooking them.
Temperature Guide
Report a problem on this page
Date modified: